Quickcamp: Organize your projects, Quick!
Sebastian Amorim, a UX manager, created an excellent utility for Basecamp to allow shortcut keys. The utility was previously available at http://www.sebadog.com/quickcamp/ but is no longer available. This is an archived version of it.
What is Quickcamp?
Quickcamp provides you a quick access via keyboard to the most common features in the excellent project manager named Basecamp, developed by 37 Signals.
What do I need to run Quickcamp?
You will need Firefox browser and the Greasemonkey extension installed on your computer.
Are you from 37 Signals?
No, no, no, we are not related to 37 Signals in any way.
But why is this site website so similar to the ones from 37 Signals?
For the same reasons you're wearing a Pixies t-shirt, we are fans.
Big Disclaimer Again
We are not from 37 Signals
QuickCamp BaseCamp Quick Reference Guide
O – Overview
M – Messages
T – To-Do
I – Milestones
W – Writeboard
P – People
S – Search
D – Dashboard
C – Choose Project
G – Setings
N – Permissions
H – Help
Download QuickCamp
QuickCamp – Add Keyboard Shortcuts Basecamp
Here is an image from the original site describing the Basecamp / Quickcamp shortcut keys: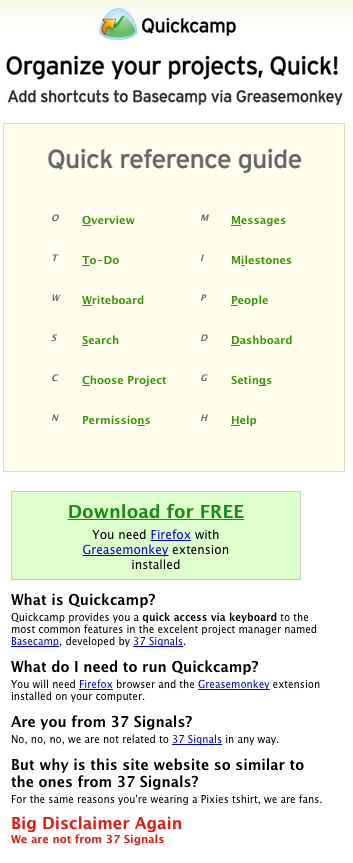 Basecamp Next – The New Version
The new version of basecamp has a few built-in keyboard shotcuts that correspond to the tabs on the top:
There are five navigational links: projects, calendar, daily progress, everyone, and me. These correspond to 1, 2, 3, 4, and 5, respectively. If you hit G+1, you'll jump to the projects tab. If you hit G+2, you'll jump to calendar, and so on. Additionally, if you hit G+F, you'll jump to the search bar at the top-right.